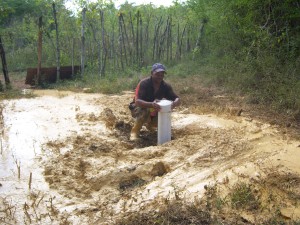 Just look at that PVC pipe, would you?  I never thought of PVC pipe as a thing of beauty until the last few days of well drilling.  There are now three pvc pipes like this sticking out the ground in Cercadillo, just waiting for the pump installation team to come next week.
Slightly over a year ago we started the process of working with a government agency to help with wells in Cercadillo.  Today the third was drilled.  Again today a very large supply of water was found at about 80 feet.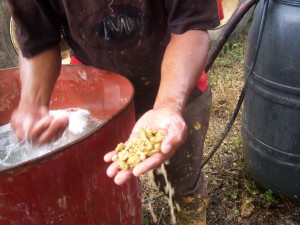 Notice the rocks in the hands of one of the drillers.  From my vast experience in well drilling (3 wells in 3 days :)), I can tell you that when the drill hits water and rocks start flying out of the hole that this is a very good sign.  Again today the workers were very pleased with the amount of water they found and the quality of the ground around it.
There have definitely been some heroes in this process:
1. South Coast Community Church in MA has heavily funded this project
2.  INDRHI – a Dominican government agency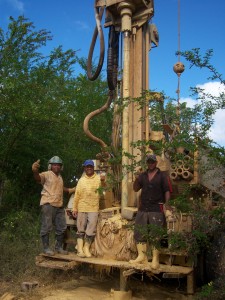 3. My Three Favorite Well Drillers – Evaristo, Domingo and Dionicio
4. Bowin Tichenor and Josue
FYI – Josue is not adding missile launchers to my vehicle.  We were just getting ready to return some unneeded pipe to the hardware store.  That roof rack really comes in handy!
5.  The people of Cercadillo who have waited much longer than I have for this day to come.
6.  All of you who have participated in this with your prayers and giving.
We still have a ways to go next week.  Dropping 100 to 120  feet of very heavy metal pipe into each of these wells is quite a task to be done before the hand pumps themselves can be installed. But hopefully by the end of next week there will be water accessible to three more neighborhoods.  Please continue to pray.  We've seen miracles this week and I'm looking forward to what next week will bring, aren't you?