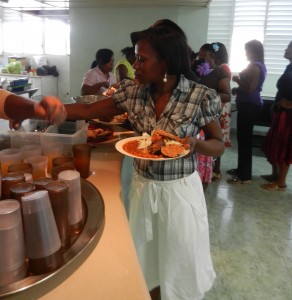 On Friday, December 20, twenty-five women from Café y Coser con Cristo, our women's sewing/crafting initiative, enjoyed their first Christmas party at the TIME Center in Villa Mella.  As I expected, even the bus ride to get to the banquet was fun for them.    Some of the ladies said they had barely slept the night before in anticipation of the outing.
They enjoyed a variety of games with prizes, various little presents, and of course, lots of Dominican food!  The TIME staff prepared the traditional chicken, rice and beans, which met with great reviews from our women.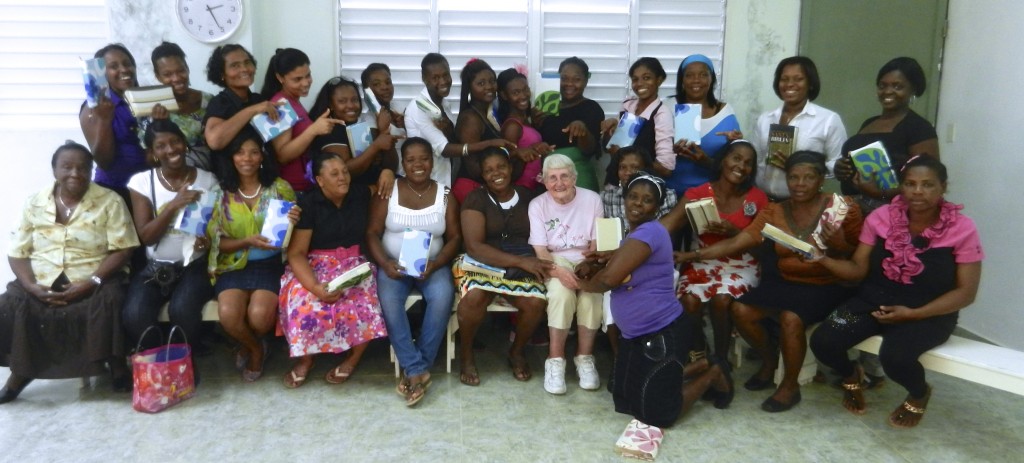 In this picture the ladies have their new Bible covers that Mom made for  them.  They often fight over who gets to sit beside her.  Elida, in the purple shirt , had been sitting beside Mom, but then her sister Yaquelin, playfully pushed her out of the way so she could take her place.
Many of the women had gone to great lengths to dress up for the Christmas party.  Some borrowed clothes, jewelry and makeup.  Those big plastic rollers certainly got a work out in the village!  Almost all of the ladies had used them the night before.  Because they were looking their best, I decided to post individual pictures of them.    Here they are . . . twenty-five of the women of Café y Coser.